Greenville Body Shop and Collision Center
Let us get your vehicle looking good as new.
Your full service auto body shop and collision repair center
The most qualified technicians. Years of experience. A great staff ready to serve you. If your vehicle has a dent, ding or bump that needs to be repaired, make your first stop Greenville Automotive's body shop. We've been serving the people of Upstate South Carolina for nearly 50 years and have a reputation for making sure all of our customers are treated with the level of respect they deserve. Use the form on the right to schedule an appointment or to get in touch with us.
Schedule an appointment today
Book an appointment with our collision center. Or contact us with any questions you may have.
* Indicates a required field
Directions
Get Directions
Greenville Automotive is home to a full-service auto body shop and collision repair center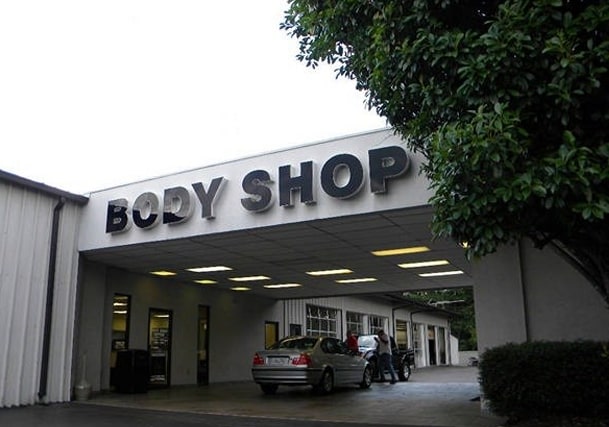 In the state of South Carolina, you can take your vehicle to any body shop...it's the law! The
Greenville Automotive
Collision Repair Center is a full-service collision repair facility.We provide the highest quality care for you and your vehicle, whether it's a dent removal or a full body repair. Our collision repair center features the newest paint systems, robotic repair units, and state-of-the-art technologies that will successfully restore your vehicle back to its prime.
We are equipped to service most makes and models, not just the ones that we sell new. When you bring your vehicle in for a collision repair, you will find that our employees and methods are some of the best in the business.
Our company has been serving the upstate SC area since 1972 with a reputation for making sure each customer is treated with the highest levels of customer service. To Schedule an Appointment or to check on the status of your vehicle, please call 864-568-3655.
Asking yourself "What's the best auto body shop or collision center near me?
There is no better choice for you than to take your vehicle to our body shop and collision center. Whether you are in Greenville, Spartanburg, Easley, Greer, Anderson or elsewhere in Upstate South Carolina, visit us first body shop first - on Laurens Road just seconds from Interstate 85 in the heart of the Upstate!
Trust us for accurate body shop estimates and quality work - for nearly all makes and models!
Our body shop and collision center offers repair services for a wide range of makes, like Toyota, Chevrolet, Ford, Honda, Nissan, and more. Our technicians are trained to repair almost any vehicle, so stop by Greenville Automotive today, one of Upstate South Carolina's leading body shops and collision centers - conveniently located near Spartanburg, Easley, Greer, and Anderson.
Where do I get a claim number?
Are you open Saturday?
No, but we are open from 8:00 AM to 6:00 PM on Monday-Friday.
If my vehicle's frame is damaged, is it a total loss?
No. A car is a total loss only when the price of repairs exceeds the insurance company's determined value of your vehicle. Nowadays, most cars are built using unibody (frame and body as one) construction. Our highly skilled technicians, with the aid of our state-of the-art computer measuring system , can return your vehicle to its original factory specifications. If it is determined that the frame section is bent beyond repair, that section can simply be replaced.
Can you match the paint color?
Today's modern factory finishes incorporate multiple layers of highly specialized paints. We have made a major investment in the finest paint system available and constantly upgrades its technology and equipment to ensure that each vehicle's paint matches. We take special pride in our ability to match factory finishes as the final step in the restoration process.
Can I get other work done on my vehicle if it is in the body shop?
Yes. Just let your advisor know what other work you would like done so that he or she can make the necessary arrangements. Please note that insurance will not cover your rental car for additional service work.
How long will the repairs to my vehicle take?
Your advisor can give you an estimate of the time it will take to complete the repairs to your vehicle. Be sure to check with your advisor for the specifics on your vehicle.
Can I get a ride home when I drop off my car?
Yes, we would be happy to provide this service to you. We want each customer's visit to be a positive experience and will work diligently towards that goal. We provide a pickup and delivery service within 10 miles, but it is on a first-come, first-serve basis.
How can I get a rental car?
If you need a rental car, we can help you make the necessary arrangements. Insurance companies will only pay for a rental car if you have that option on your policy or if you are the claimant. Check your policy and/or call your insurance company to find out if you have rental coverage and what your specific limitations are.
Is there a warranty on the repairs to my vehicle?
Yes. We guarantee all repairs with a Lifetime Warranty.
Do I have to pay a deductible?
The amount of deductible that you will be responsible for is determined by your insurance policy. If you aren't sure about your deductible, you can call your insurance agent.
Who do I pay my deductible to?
It will be your responsibility to pay us when you pick up your vehicle. If you aren't sure about your deductible, you can call your insurance agent.
What forms of payment do you accept?
What are betterment charges?
Recommendations and precautions in the first 90 days